Victor Mazan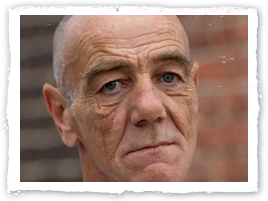 Victor, who is age 58 and has made his living as a machinist for 40 years, was diagnosed with stage three cancer of the larynx in July 2011. He is the sole income earner for his family. He has provided for his wife, who also has many major health issues herself and cannot work, and for their 15-year-old son.
When he became unable to work, as his treatment required radiation every day and chemotherapy each week, his employer did something extremely rare: Victor kept his job and his insurance. His sympathetic employer knew the current Maryland law, and knew Victor would not be able to get unemployment. So, Victor was "kept on the books," and his insurance was not canceled.
In some respect, his is a success story because he was able to keep his health insurance. However, he kept his job with no pay, so income is still an issue. And the high cost of living expenses and bills continues to mount. Victor has been able to keep going. He has reached out to friends, avoided eviction and even got the family's phone turned back on. His treatment is finished, and he is able to eat solid foods again, getting a little better each day. Victor is anxious to get back to work and to see the law changed so "others don't go through what I have." And the struggle continues.